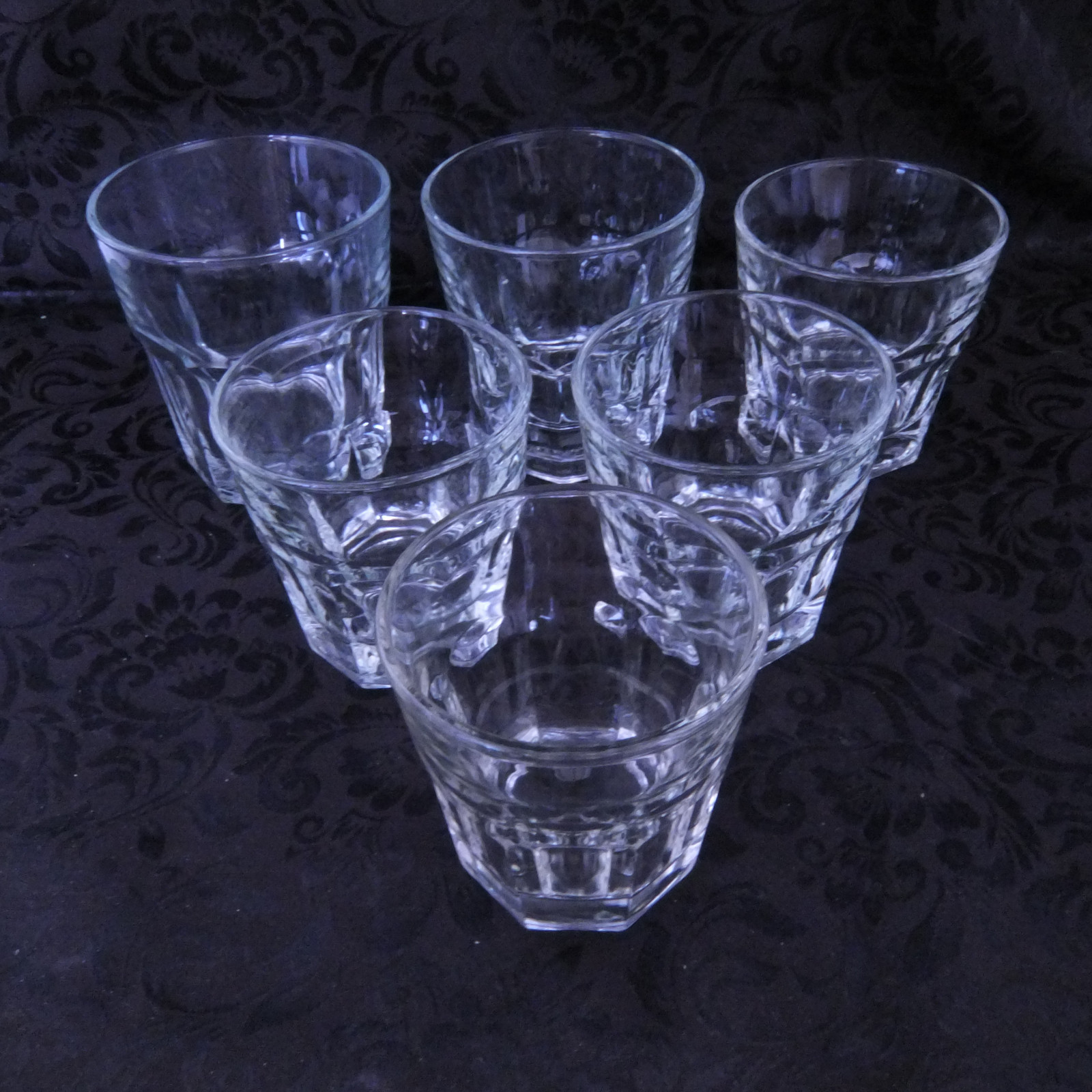 I'm collecting these, hoping to construct sets of four very good quality pieces. Until then, the entire collection is up for sale.
(Yes, I'm also using these from time to time.  That's why they are sold as used.)
Lot of 9 Libbey Duratuff Gibraltar Glasses Mixed Set Various Sizes i665
All the big glass companies copy each other's designs, but there's some variation with these glasses that have a polygonal base and a round top.
I'm collecting Duratuff mainly because I'm in a Libbey city, and the glasses are a little more expensive than the others.  They cost around $2 each in wholesale-size lots.  They are generally sold only to the restaurant trade, and made of a material designed to shatter into small pebbles rather than large, sharp shards.
Note that Libbey Gibraltar is not the same as Duratuff.  It looks the same, but it's a different glass formulation.
Anchor Hocking's version is called the New Orleans.
I think the "original" is the Duralex Picardie, which isn't that widely available, except at William Sonoma. It's French, and a little lighter than average.  It also has a pretty "wave" in the shape. Despite being sold at William Sonoma, they can be had for less than $2 each.
Palak's Pasabache is an old Turkish glass company that virtually duplicated the design of the Picardie. You can see the differences if you compare them side-by-side.  These are also hard to find and may not be made anymore. There is a pattern on the Pasabache website called Bira which is more similar to the Gibraltar.
Ikea's Pokal glass pattern is similar to the Gibraltar and New Orleans, and costs less than a dollar per glass, so it's the value leader.  Unfortunately, I noticed that Ikea glass is often scratched and hazes.
I've seen some versions of this made by Crisa, the leading Mexican glass company. The Crisa website indicates it's called Boston. It also says that Crisa was bought by Libbey.
Arc Intl. doesn't really make a clone of this design. They do have a different design that fits into the same functional space called the Working Glass that is widely copied by other glassmakers.  The older ones, made in France have some collectors. The current ones are made in the USA, and sold at Bed Bath and Beyond.